Digital release: April 10, 2020
CD release: May 1, 2020
Click HERE to download and stream the album!
On 5/1/20, the date of the release of the physical CD, Playbill hosted a virtual album release concert with Georgia featuring interviews and performances by Jessica Vosk, Brandon Victor Dixon, Jeremy Jordan, and Kate Baldwin. Click here to watch the 45-minute event. And click here to see the "Playbill" from the virtual concert.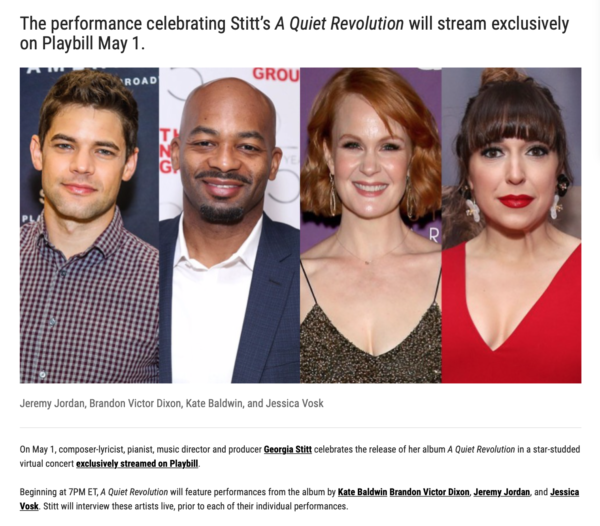 —————————————————————-
Playbill.com also published a Track-By-Track Breakdown on 3/27/20.
Composer and music director Georgia Stitt's new album of original songs (her first in over a decade) is a collection of tunes for our times. A Quiet Revolution features 13 tracks performed by stage favorites Kate Baldwin, Laura Benanti, Heidi Blickenstaff, Andréa Burns, Brandon Victor Dixon, Sutton Foster, Joshua Henry, Amber Iman, Jeremy Jordan, Caitlin Kinnunen, Norm Lewis, Emily Skinner, Jessica Vosk, Betsy Wolfe, and E.J. Zimmerman.
Here, Stitt shares the stories behind the songs she calls "a call to the part inside each of us that is desperately clinging to humanity and is willing to fight to protect it, and that somehow feels more important in these uncertain times than it ever has before." Read her thoughts and memories below; the album—produced by Jeffrey Lesser and Stitt, with music direction and orchestrations by Stitt— is available digitally April 10 and on CD May 1 from Craft Recordings/Concord Theatricals.
Press Release Info: