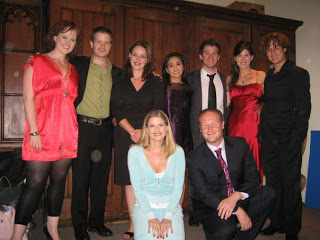 You'll have to forgive me for not posting in so long. These Brits are keeping me busy. The photo to the left is the team of people who were a part of my British debut concert at St. Paul's Church in Knightsbridge. In the back row you've got Amy Maiden, who is half of the Contempo Theatre Company which produced the evening, Damian Humbley, some girl who showed up in a black dress, Jo Ampil, Daniel Boys, Eliza Lumley, and violinist Ben Lee. In the front is Caroline Sheen and producer Alastair Lindsey-Renton. Caroline also had a beautiful red dress and these fantastic shoes she wore for act two, but her act one song required her to wear exercise clothes, and so there she sits. Bless.
And now — about the concert itself. I'm always amazed that it's not over in three minutes and that there are more than six people in the audience. And especially in another country, in a city where I've never been promoted, it still astounds me to be able to say that the concert was two hours long and the audience held about 200 people. I sang three songs, and the other five singers each sang three or four, as well. The more I do this thing — performing my own music — the more comfortable I get. I have to say, this time I was really at peace with the singing I had to do (instead of being a nervous wreck about it) and even though the banter between songs was goofy and off the cuff, I think it went over well. (Does anyone know if Olga and her date actually made it to the concert?) So, a huge thank you to all involved. I am really happy.
The day before the concert my team all gathered at Dress Circle to sign CDs and sing a few tunes. As I was playing, I saw that several people were watching me through camera lenses and sure enough, the next day there we were on YouTube. So, for those of you who couldn't be there, here's a taste of what you missed.
In addition to the performing, I've been working around the UK doing master classes.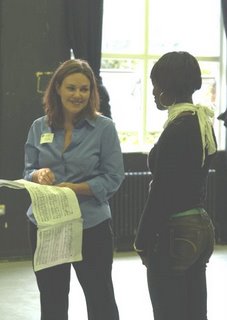 So far I've been to The Brit School (click here to see the write up we got in their blog!), Knightswood School in Glasgow, Scotland, the Royal Acadamy of Dramatic Arts (RADA), and the Sylvia Young Theatre School. We've got more schools booked all throughout next week, and I'm also accompanying some of my husband's classes he's teaching. The thing I've been surprised by, more than anything else, is how similar musical theater students are everywhere you go. The work I did with British students this week is the same work I do with my professional actors in my class The GYM. I'm constantly asking actors, "Who are you talking to?" "At what point in the song do you feel like your character is changed?" "How is the music giving you the clues you need to act this song?" And students everywhere are working in their classes and their coaching sessions and their lessons to answer just these questions.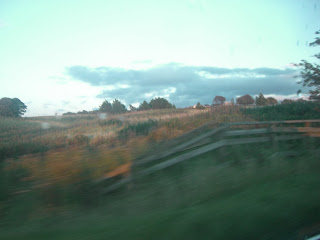 One of the most surreal moments for me was driving in to Glasgow from the house where we'd spent the night before, and our driver was engaging us in a conversation about the differences between Rodgers and Hammerstein songs and Rodgers and Hart songs. It was a pretty deep conversation about a very specific topic, and as I looked out the car window, I saw the most rural countryside, sheep, and ancient stone buildings. Even here, when I'm as far north as I've ever been, these songs are famous and, even better, relevant.
I leave you with a quick word about the Donmar Warehouse production of my husband's show PARADE. Go. It's one of the most astounding things I've ever seen, and the response from the London audiences has been amazing. Three curtain calls last night. I am so proud of him and the work they have done for this much smaller version of the show that originally played at Lincoln Center. Press night (official opening) is Monday. Keep your fingers crossed.