I think it officially starts when you take your American money out of your wallet and you say, "Well, I guess I won't be needing this for a while." I'm embarrassed to admit that I'm still trying to read the numbers on the coins to see how much value is attached to each one. Ugh. Such a foreigner — and I've even lived in London before. Years and years ago at Vanderbilt I took a summer abroad to study British Lit and Fine Art over here. I remember reading the British novels. (It was one of my favorite classes ever.) I remember going to the museums and sitting through the slide shows. I remember taking the train trips on the weekends to see more of the country than just this city. I remember mastering the Tube and lounging in the pubs and seeing great theatre (and not-so-great theatre). Apparently I just don't remember the coins.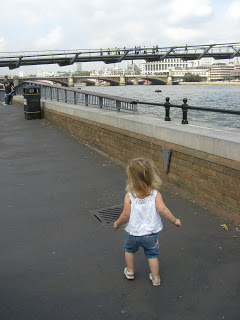 That's Molly in Southwark walking along the Thames. COME ON. I didn't get out of America until I was in college. In fact, that trip to London so many years ago was my first time out of the country (and I suppose I'm not counting Mexico and Canada, even though they are actually different countries). The fact that my two-year-old daughter has a passport and it has already been stamped is astounding to me. It's so easy now to be worldly, and yet Americans tend to get stuck within our own fifty states. Granted, those are some big states. A Brit yesterday asked me how far it was from New York to Los Angeles, and I said, "Oh, it's about a six hour plane ride." His jaw dropped, and he tried to figure out how far from London a six hour plane ride would get you. "South Africa?" he suggested. I don't think it's THAT far, but the vast amount of space we take for granted in our country is unique to us, that's for sure.
It took me two days to get my cell phone to work over here, and during those two days I had to call my cell phone company in America twice. The second time I got this girl with a deep Southern accent who was helping me to figure out the code that would unlock my phone and allow me to use it abroad. She said, in a thick Alabama drawl, "It must be so different over there in London." I really hate making small talk with people who can put you on hold, but I engaged. "Yes, yes, it's pretty different, all right. But it's not SO different because at least everyone here speaks English." "Oh. Really? They do?" she asked. Is it possible that we're so self-involved as a country that some Americans don't even realize that English people speak English?
So, anyway, I'm going to do my part to represent America with grace and class. Next Sunday the 16th, as I mentioned in a previous blog, I'm doing a concert of my music at this amazingly beautiful church in Knightsbridge, London. (For those of you coming, it's just behind the Barclay Hotel.) We start official rehearsals tomorrow, though the five singers have been rehearsing on their own for about two weeks. I've got an Irish nanny showing up to watch my child while I'm in rehearsal, and I imagine she'll walk about with the pram and take along some spare nappies while she's sorting out what to do to keep the day from being rubbish. I can't wait.
________________________________________
Concert tickets: CLICK HERE
________________________________________
Books I read for my British Lit class at Vanderbilt, many years ago. I can only remember a few of them. Anyone reading who took the class with me and can remind me what the others were?
1. Brave New World (Aldous Huxley)
2. Little Dorrit (Charles Dickens)
3. Heart Of Darkness (Joseph Conrad)
4. The Time Machine (H. G. Wells)
5. Frankenstein (Mary Shelley)
6. The Woman In White (Wilkie Collins)