It's all in the perspective. I missed my entry last week because I was traveling, and I'm still on the road but I realize that's no excuse. In fact, traveling often leads to insights that you certainly wouldn't have if you were sitting on your duff at home, so let's start there.
A little over a week ago I flew from LA to Boston and spent several days on Cape Cod. There's a theater there I've mentioned before in this blog, and because of the many summers I spent there during college, that part of the world is incredibly special to me.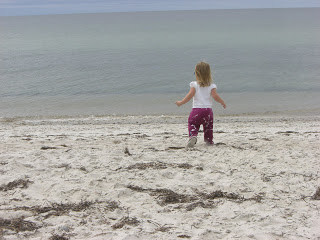 You know how there are places that resonate with you — where you feel a kinship with the very land, the people, and the history that surrounds you? Cape Cod is like that for me. I feel like me when I am there. (Interestingly, Scotland is like that for me, too, and I've just found out I'm going to get to go there later this month. But more on that later.) Meanwhile, tell me this isn't the most spectacular picture ever. If you've purchased my CD (with the booklet), you might be wondering… and the answer is yes. Same beach, same baby, one year later. Those of you who downloaded the album on iTunes (and thank you for doing so!) didn't get to see the fantastic graphic work Derek Bishop designed. And those of you who dowloaded it illegally — shame on you. But the rest of you know what I'm talking about.
The College Light Opera Company was producing THE SECRET GARDEN that week, and as I sat in the audience watching it, I was thinking about how interesting it is that your perspective can change so much over time. When I was 20 years old and getting to conduct a show for the first time (32 singers and an 18 piece orchestra!), I thought the singers I was coaching were the greatest I'd ever heard, the conductors I was studying with were uniquely informed about how musicals work, and the audience on Cape Cod was capable of making me as nervous as I'd ever been. Now, some (mumble mumble) years later, and with all due respect to all of those people from earlier chapters of my life, I've heard so many more great singers, learned from so many more conductors, and been far more nervous than I ever was at CLOC. Sitting in that audience, trying to remember who I'd been at the beginning of this career, I found myself listening to the inside of my head more than listening to the show. And though the actors might not agree, I think that's all right. It's nostalgia, it's self-evaluation, it's observation. It's a change in perspective.
After we left Cape Cod, we drove through New England on a beautiful late summer day and wound up in Vermont, where we visited family.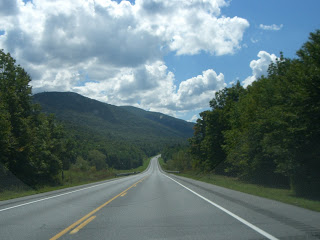 Two days in the mountains with a great aunt and uncle in their 80s. No cell phone service. No internet. It was magnificent. I realized how dependent I've become on being able to be in contact with people all the time. A year ago I remember thinking, "what do I need a Blackberry for?" and now I check it at least ten or twelve times a day. Once you get used to the constant flow of email and text messages, it's shocking not to have them. When, at the end of the trip, I drove back into an area where my cell phone received service, the messages came pouring in — and I was relieved and disappointed at the same time. Wouldn't it be nice, for at least parts of every day, to be truly unavailable?
After Vermont, we headed into New York. I lived in NY for ten years before heading out to California two years ago, and coming back to the city always feels like coming home. My dearest friends are here, and thankfully I've gotten to connect with almost all of them this week. I know my way around NY better than any other city on earth. Most of the time, even now, my work leads me back to Manhattan. And yet, for the first time in two years, it was clear to me that NY is no longer my home. Instead of pining away for it, I found myself thinking how grateful I was to have the things I have "at home." Again, my perspective had shifted.
One of the great things I got to do this week was attend a performance of GREASE on Broadway. After working as the vocal coach on the TV show for months and months, I sat in that audience knowing that I was having a truly unique experience of watching the show. I know Max and Laura's voices in such detail, and I know their personalities but I haven't been with them for the last few months as they made the transition from aspiring actors to Broadway stars. I know that score so well, and I was hyper-aware of every change in the vocal arrangements, the orchestrations, the placement of the new songs. I know the conductor and most of the cast. I know the director. I even knew the sound guy running the board at the back of the house. I was sure that I was going to sit there completely unable to enjoy the show because I was so in my head. But you know what? I really liked it. Perhaps it's because of my relationship to the show that I had such a good time, but I was really proud of those performers and really happy to have been a part of it along the way.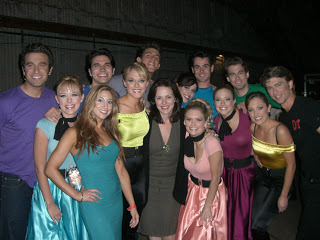 Next week I cross the big pond and start rehearsing for the September 16th concert in London and the numerous master classes I'm doing in England and Scotland. (See? Scotland! We came back to it!) I have no idea what I'll be posting about, but assuming I don't wind up in Vermont again, I'll be back each week. Can one write a blog with a British accent? It certainly would change your perspective. See ya then.