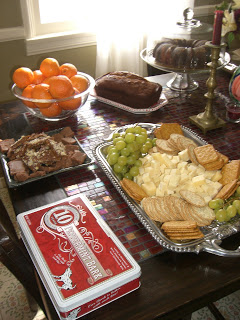 In keeping with the spirit of revealing too much (and why else would we maintain blogs?), I will let you know that I love to cook. I am a pretty decent cook, actually, though I am much better at following recipes than opening the pantry door and saying, "Wonder what I can make with Corn Flakes, Spanish olives, tomato paste and balsamic vinegar?" (Hey — if you can do that and the result isn't disgusting, you get my full respect.) Apparently I am good at following directions, and I've now been doing it long enough that I'm getting pretty good at improvising as I go, too. (You could say the same thing about the way I play the piano, really.)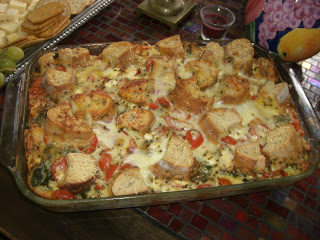 On New Year's Day I cooked up a feast. We had a party, and I had invited so many people that I didn't know who was coming. So I just cooked and cooked and cooked. For three days. And the results turned out pretty well. I find a lot of recipes in "Cooking Light" magazine. I like it because it's healthy food that's well-prepared. Not "diet" food. Real food, just lighter. (I made a beef stroganoff for dinner recently that you would never have known was low-fat. Okay, I realize I sound like Brie Van De Kamp Hodge right now. What can I say? I grew up in the South. That's my apology.)
So, take a look. Here's the menu:
Pumpkin chocolate chip bread
Ginger spice cake with an orange glaze
Mediterranean strata (eggs, mushrooms, spinach, tomatoes, Asiago and parmesan cheese, French bread)
Cranberry and wild rice salad
Winter vegetable stew (Swiss chard, butternut squash, carrots, leeks, turnips, onions) and couscous
Caramel French toast
Oat bran muffins with raisins, dates and dried cranberries
homemade fudge and almond toffee
Williams-Sonoma peppermint bark (not homemade, sorry Becky)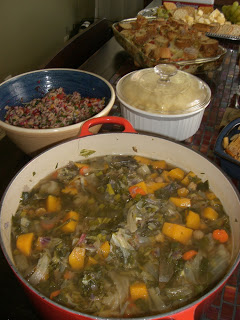 The irony, of course, is that I don't cook much during the year. Jason laughs at me because I read these cookbooks and these cooking magazines and then I send him out to pick up the takeout we ordered for dinner. When days are harried and rushed, as they so often are, cooking is the first thing to go. I am usually still writing, coaching, or teaching at 5 pm when most housewives are making dinner for their families. And so, we pay $19 for salmon instead of picking it up at the store and throwing it on the grill. Yet another reason why I love the holidays. More time. More family. More cooking.
I think I'm writing about this tonight because my friend Garth just sent me a recipe chain letter. It's the kind of thing, you know, where you forward it to 20 of your friends and if they ALL PARTICIPATE you get lots and lots of recipes back. And even though I hate chain letters, I love the idea of getting new recipes. Last time I participated in this kind of thing, years ago, I forwarded the chain letter to all my friends in the South (because how many of you New Yorkers really cook? I mean, really?), and the recipes I got back were things like cheese logs and cream of mushroom pie. (I can guarantee you no one in this house will eat a cream of mushroom pie.)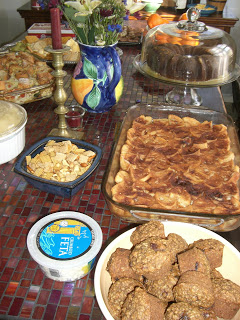 So I'm going out on a limb here. I know this isn't a cooking blog, and I really don't want it to be. But if you want to play along, I'll post a recipe here every now and then, and if you've got something you like, you can post it in the comments. So we'll have our own little recipe chain letter and no one has to annoy their friends. I'll go first.
When my grandmother died, my dad and I scanned a lot of her recipes into the computer so we'd always have them. I can't say I've made too many of her dishes. (OMG the butter! The cream! The handwriting!) But there's something warm and comforting about seeing a handwritten recipe from sixty years ago that has so many stains on it that you know it must have been yummy.
This recipe — for "Peanut Butt Drops" — makes me laugh. Flossie was my grandmother's aunt. Which would make her my great, great aunt. Who knew they had Corn Flakes back then?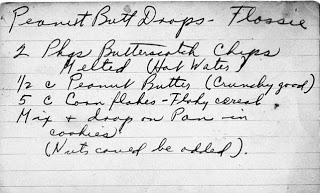 Nuts could be added, indeed.