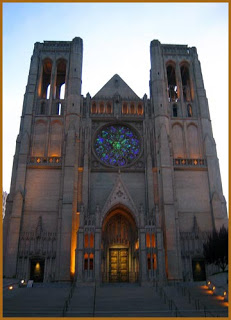 Dear International Orange Chorale Friends and Supporters,
Please join us on Wednesday, January 7th at 7:30pm as we sing at San Francisco's landmark Grace Cathedral with the Yale Glee Club. Under the direction of Jeffrey Douma, Yale's 80-member ensemble will sing a wonderful concert including music recently commissioned by the Glee Club by Pulitzer Prize and Grammy Award winning composer Ned Rorem. We have been invited to sing a set of our own and to combine forces for a few pieces including our own Georgia Stitt's De Profundis (an IOCSF commission from 2004), Randall Thompson's well-loved Alleluia, and Gerald Finzi's God Is Gone Up. In the setting of Grace Cathedral, this will be a spectacular occasion.
About the Yale Glee Club: For nearly a century and a half, the Yale Glee Club has represented the best in collegiate singing-from its earliest days as a group of thirteen men from the class of 1863 to its current incarnation as an eighty-voice chorus of men and women.
It's a privilege for us to welcome the Yale Glee Club to San Francisco!
For tickets, please click here:
(415)-392-4400
$10 General Admission
$8 Students and Seniors
WEDNESDAY, JANUARY 7TH, 7:30PM
GRACE CATHEDRAL
1110 CALIFORNIA STREET
SAN FRANCISCO, CA 94108
Visit us on the web for maps and more information.
See you on January 7th!
To a Happy New Year,
Jeremy Faust