Okay, okay. I know it's been a long time since I wrote anything, but I've been sitting on these things I wanted to announce, thinking any day I'd get the go ahead…. hmmm…. still waiting… any day now…

What I CAN tell you is that I did my radio interview yesterday for the Broadway Radio Show where I listed my twelve favorite showtunes. It will go on the air for a week starting on Sunday. I was fascinated to learn that of the twelve songs I picked, only one of them had ever been picked by any of Donald Feltham's previous guests. (Only ONE! And that one was so obvious I can't imagine anyone NOT having it on his/her list.) Also fun was how much time we spent talking about WHY the songs made it onto my list of favorites. Thanks to all of you guys who wrote in to the comments about what your favorites were. There were some great songs included — many of which I considered, but only one (yep, that's the one) that was the same as any of mine.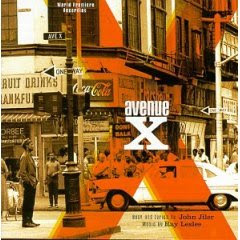 I was in NY last week having a writing retreat with my collaborator John Jiler. You might be aware of him because he wrote the really spectacular musical play AVENUE X (which I have music directed three times). Anyway, he and I are writing a new musical called BIG RED SUN (though the title is inevitably bound to change). It was one of those intense weeks I don't get often enough where he and I met for four or five hours each morning, and then he left and I spent the afternoon writing out the music for the things we'd rewritten. The next morning, I showed him my revisions, he showed me his revisions, and we repeated the process. At the end of the week we did a reading of the script with six fantastic actors and then I flew back to LA, utterly exhausted. I found myself really jealous of people who get to live that way all the time. I get so easily distracted with the other things I've committed to in my life that sometimes a few days — even a week — can go by and I realize I haven't written anything. Maybe I haven't even played the piano. What a luxury it would be to have nothing else on my plate except the task of finishing this show. Of course, when I really think about it, that would mean giving up a lot of other things in my life that are way too important, and I don't really mean it. But what I'm getting at is how crucial it is to find balance.
When I was young and single in NY, I sometimes would put myself "on retreat." I'd tell everyone I knew that I was going out of town for the weekend, but I'd actually stay put in my little one-bedroom apartment and I'd unplug the phone. I'd write music all day, have a solitary dinner in a nearby restaurant at dusk, and then come home either to write more or to settle in with a great book or a favorite rented movie. It was the perfect New York City life, the kind of thing I'd dreamed about when I was a little girl lying on my bed listening to Broadway cast albums. I can't imagine doing it now, but if you're in a place in your life where you could pull it off, go for it, man! It's the most refreshing, healthiest little white lie I can imagine, and it's totally worth it.
Tomorrow I'm doing an old-fashioned backers' audition for a new musical revue I'm putting together with David Kirshenbaum. Tentatively called SING ME A HAPPY SONG (why can't I commit to titles?), it started out as just a collection of our trunk songs that we wanted to throw into two acts and call a revue. But as we've been developing it (thanks Goodspeed, thanks TheatreWorks), we're finding there's a bit more substance to it, and we've been writing all kinds of new songs. Keep your fingers crossed mid-afternoon that the 20 or so people in this room like it enough to give us our first production. If that happens, you'll definitely be hearing more about it.
And finally, oh okay, there's nothing really to announce yet but I had a meeting last week about the possibility of releasing a songbook of my music to accompany the CD, and things are looking good. So in the interest of not jinxing myself, I'll leave it at that.
Wish me a happy birthday (it was last week) and good luck tomorrow. Now I've got to go tinker with that one lyric that I just haven't gotten right yet…