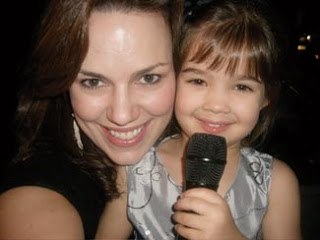 Georgia Stitt, BMus'94, with 4-year-old America's Got Talent contestant Kaitlyn Maher.
In show business, the saying goes, it's not what you know but who you know. In the case of Georgia Stitt, award-winning composer and vocal coach on America's Got Talent, it's both.

Music: Getting Real, from VANDERBILT MAGAZINE
by Angela Fox
A Tennessee native, Stitt received her bachelor's degree in music theory and composition from the Blair School of Music in 1994 and her M.F.A. in musical theater writing from New York University. Since then Stitt has forged a successful career as a composer, conductor, arranger and music director in musical theater, dividing her time between New York City and her home in Los Angeles. As unlikely as it sounds, it was Stitt's classical training and Broadway experience that led to her current work in reality television.
Two years ago Stitt got a call from director/choreographer Kathleen Marshall, with whom she had worked on the Broadway revival of Little Shop of Horrors. "Our paths had crossed several times since then," Stitt recalls. "This time she was directing and choreographing [the TV show] Grease: You're the One That I Want, and she brought me on board as vocal coach." On the NBC reality show, aspiring performers competed to be cast members in a revival of the musical Grease on Broadway.
Grease: You're the One That I Want introduced Stitt to Nigel Wright, prominent British record producer and Andrew Lloyd Weber's longtime musical director. Wright, who was musical director for the Grease reality show, was so impressed with Stitt's vocal coaching that he brought her in as his assistant musical director on Clash of the Choirs. That musical TV reality hit pitted five amateur choirs from around the country, each led by a celebrity singer, against each other. "That went well," Stitt says. "So when Nigel went to work on America's Got Talent, he called me again." Stitt worked on the 2008 season and hopes to return for the 2009 competition.
The difference with America's Got Talent was that not all the talent was musical. "Of the 40 acts, though, 19 were musical, and one of my singers won the top prize," Stitt says with pride. That singer is Neal E. Boyd, an insurance salesman from St. Louis who had studied classical voice and sang opera—which made his win even more impressive, says Stitt. "The show truly has Americans voting for the winner, and in this case they voted for an opera singer." Stitt and Boyd clicked so well during the competition that Stitt continues to coach him for recordings and performances.
Reality TV work is very different from the vocal coaching Stitt does on Broadway or with private clients. "There's a level of professionalism that's already there, of course, when I coach singers on Broadway," Stitt says. "On America's Got Talent, some of the singers have never had a voice lesson. One woman who was in her 40s had never done vocal warm-ups before. When I showed her how, it was like I had taught her how to read. But that's what teaching is about—you have to figure out where a student is and then meet them there."