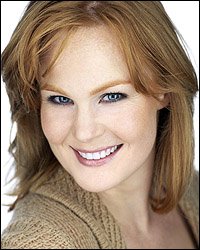 Finian's Rainbow Star Kate Baldwin Sings "Alphabet City Cycle," Released Digitally
By Kenneth Jones
31 Mar 2009
http://www.playbill.com/news/article/127873.html
PS Classics unveils composer Georgia Stitt and lyricist Marcy Heisler's "Alphabet City Cycle," a five-song cycle for soprano, violin and piano, on March 31. It's the label's first digital-only release.
Featuring vocalist Kate Baldwin, the actress who got recent raves as Sharon in the Encores! presentation of Finian's Rainbow, "Alphabet City Cycle" is be available exclusively at iTunes.
The title refers to the East Village Manhattan neighborhood with lettered avenues. Victoria Paterson is heard on violin.
PS Classics co-founder Tommy Krasker told Playbill.com, "'Alphabet City Cycle' is a wonderful reunion. We released Georgia's album 'This Ordinary Thursday' in the spring of 2007, and just brought out Marcy's Dear Edwina last fall. Georgia's hard at work on a new album, but we don't yet have a time-line for completion or release. What she had finished, though, is this gorgeous song cycle. 'This Ordinary Thursday' has been one of our strongest digital releases to date; rather than wait for the new album to be completed, we decided to unveil the song cycle now, as a digital exclusive."
Stitt revealed in press notes, "Marcy and I became friends in New York City several years ago, back when we were both starting out as baby songwriters and were playing our respective songs all over town. I was really curious to see what Marcy and I might create if we pooled our talents. After rejecting the ideas of writing a full-length musical or a slew of cabaret songs together, Marcy pulled from her filing cabinet a stack of poems she had written and asked if I'd like to take a crack at setting them. I sifted through maybe 15 or 20 poems and picked one to put to music. Once we realized that we were on to something and that our songs sounded different from anything either of us had written before, we picked four more poems and kept going. The 20-minute song cycle here is the collection of those five musical poems; they are some kind of hybrid between musical theatre and art song."
Heisler stated, "While written at separate times in my life, the poems come together in a story maybe I was too much a part of to see clearly. While not all of the pieces are autobiographical, they all came from strolling down the streets of and near my Greenwich Village home. It was Georgia's music that gave me a new perspective on their meaning, capturing the lure and loss and ultimate inescapability of connection we cannot help but seek."
"Alphabet City Cycle" was produced by Grammy Award winner Jeffrey Lesser, who also produced "This Ordinary Thursday" and several other PS Classics recordings, including Maureen McGovern's "A Long and Winding Road" and Lauren Kennedy's two solo albums."
The track listing follows:
"The Wanting of You" (The Student on Avenue B)
"Almost Everything I Need" (The Divorcée on Avenue C)
"I Hardly Remember" (The Widow on Avenue D)
"Blanket in July" (The Jilted Actress in Tompkins Square Park)
"Sunday Light" (The Lover on Avenue A)
Stitt played all tracks except track "Blanket in July." For that, Grant Wenaus played the piano and Stitt conducted.