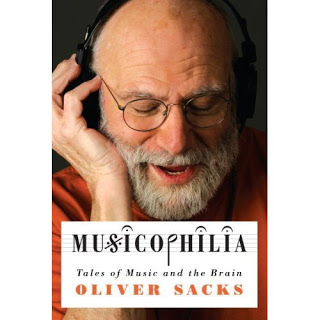 One of the greatest things about being married to another musician is that we can go way deep into music geekdom in our conversations. I'm currently re-reading a very interesting book that Jason recommended to me years ago and I started but never finished. It's called Musicophilia and it's written by Dr. Oliver Sacks, a neurologist and author who writes about some of the most fascinating medical things. (Click here to read more about him and his subjects.) This book happens to be about music and the brain.
Most of the time as I'm reading along in the book, Dr. Sacks talks about crazy musical disorders (or heightened experiences, at least) that are fascinating but completely foreign — people who hallucinate music, people who cannot differentiate pitches, people for whom musical tonality and color are inexorably linked. And I'm reading, thinking, wow, that's so cool or so strange, but it's just a curiosity. And then I came across the chapter on "absolute pitch," and suddenly I couldn't put the book down.
Most of us talk about "absolute pitch" as "perfect pitch." I don't have it. By definition, it's a condition (state of being? state of understanding? state of awareness?) whereby a person hears (or sees) a pitch and knows absolutely what it is. If you ask a person with perfect pitch to sing you an A, he can do it, pull it out of the air, unrelated to any other sound. He can even do it if there is currently music playing in the background in a different key. An A is just an A and is always an A.
As Dr. Sacks was writing about "absolute pitch," he made reference to "the essential F-sharpness of an F-sharp." In a silent room, I started to hear a note, which I guess was suggested by the reading of that sentence. Curiously, I went to the piano to check it out. Sure enough, it was an F-sharp.
I started thinking about absolute pitch and realized that while I don't have it, I do fall closer to it on the spectrum than other musicians might. When I was music directing "Avenue X," a fascinating a cappella musical written by John Jiler and Ray Leslee, I was called on to lead the cast through an entire evening of singing in eight-part harmony with no instrumental accompaniment. We did really cool things like build pitch pipes into the set and identify the musical tone of every piece of metal on the stage, but our ears got trained really quickly to listen to each other, and I found myself more sensitive than usual to pitch and tuning. During the run of that production, I could always pull a D out of the air, because there were several places in the show where the success of a number depended on the actors starting on a D chord. To this day, if I need to find a D, I sing Virginia Woodruff's solo in the second act that starts "… There are dreams that die…." They are all Ds, and I can always find them.
When I hear something played on the piano, I can usually tell you what key it's in. I've been playing the piano for thirty years (THIRTY YEARS? OH MY GOD.) and I think the timbre of one note sounds different from the timbre of the next one. But if you played the same piece of music on string quartet or in a vocal ensemble I might not be able to tell. And my ear is not foolproof. I've just got a really good track record for guessing.
In church, sometimes they print the hymns in one key and our organist will play them in another key. It totally freaks me out, because I can tell that what I'm seeing and what I'm hearing are not the same. And yet, if you just put the piece of music in front of me and asked me to sing it, I'd get the intervals right but I'd probably be in the wrong key.
And as far as keys having colors attached to them, I've never had anything as clear as "D-major is blue" or "D-major is yellow," as Dr. Sacks explains on his website. (Watch "Bright Blue Music" here.) But to me, sharp keys are bright and flat keys are moody and C-major sounds like a blank piece of paper. In our music geek conversations, I have come to discover that my husband doesn't think of music this way at all. I choose keys because of how they sound and what they evoke. He chooses keys based on what instruments will be playing them. (Some keys are better for strings, better for guitars, better for brass, better for saxes. It just depends.) We're both right.
I'm pretty sure that I have a strong and evolved sense of relative pitch, not absolute pitch, but now I'm fascinated to hear what you think, what you experience, and how you think about pitch. I know that when I forget to put my seatbelt on in the car, it beeps thirty Gs at me. (Annoying, because I hear them in 4/4 time and it always stops mid-measure.)
How much of a music geek are you?