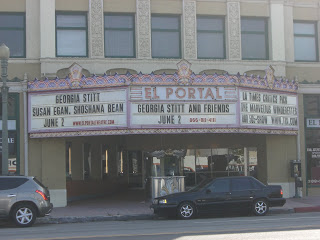 Oh boy, am I tired today. I just want to write a quick note to thank so many of you for coming out to the concert last night. The perfomers were fantastic, the band ROCKED and there were over 200 people in the house, which was way more than I expected. We sold a bunch of CDs and I think several new people discovered these songs, which is really what's most exciting to me. (That… and getting to play with drummer Shannon Ford, my hero.) I am so grateful. The more successful these concerts are, the more willing I am to keep doing them. (It takes a lot for me to sing in public, y'all.) So, thanks!
I want to share with you a few funny stories that are only loosely related to last night's experience.
1. Producer Jay Irwin told me I really shouldn't be concerned that outside of this series, the last two solo concerts he did at this theater were for Kitty Carlisle Hart and Charles Nelson Reilly. Hmmm. I checked my pulse as soon as I got off stage and so far it all seems okay.
2. Susan Egan told us a funny (horrifying) story backstage about how she had a babysitter one night (not last night, thankfully) who said to her, "So once I put the baby to sleep I can leave, right?" She looked at the babysitter in disbelief and said something like, "Um, no, not if we're not home yet." And the babysitter said, "Oh… cuz I sort of made plans." Needless to say, Susan kicked off her fancy shoes and decided they were staying in that evening.
3. My friend Emiko flew in from JAPAN for this concert, and she couldn't go out for drinks afterwards because she was heading BACK to the airport. Now that's dedication. Thanks, Emiko!
I have almost no pictures from last night because I was so frazzled with other things I forgot to take my camera out of my purse. So if you were there and you took photos, send them along and I'll put them on the website!
Thanks, finally, to Kathleen Monteleone's parents, David and Bunny, for their extreme generosity. Next time, drinks are on me.
Good night, gang!
Georgia