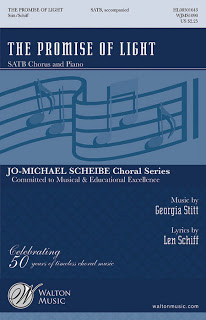 In addition to the musical theater tunes that probably led you to this site, there is, it turns out, other music of mine out in the world. When I was in high school I sang in my church choir. I had been the piano accompanist for various church choirs since I was fourteen, and I grew to be the accompanist at times for the chorus at my school, and ultimately for the All-State (Tennessee) choir festival, the TN Gay Men's Chorus, and the Rye (NY) Country Day School choir on their international tours of Japan and Italy. I have been breathing choral music, especially sacred pieces, since I was a kid. Once I got to college I really didn't have time to commit to being in a choir, and I found I missed it. I'm an okay singer on my own, but I'm great in an alto section.
I suppose it was inevitable that I would eventually start writing choral music, even though my main focus turned long ago to writing for the musical theater. Of course, there are huge amounts of choral writing in the work I do for the theater, and a basic understanding of the human voice is key in both disciplines. I have always said what interests me most as a writer is figuring out how to use music and text to convey an emotion or tell a story, and the abilities to do that exist in both fields.
I discovered the poet Christina Rossetti when I was a sophomore at Vanderbilt, and I loved her poems so much. She was so passionate, so soulful. She captured such a sense of longing and emptiness, yet managed to celebrate her spirituality, too. I set her poem "Echo" for women's chorus that year in school and asked a bunch of my female voice-major friends to form a chorus to sing it on a recital for me. I didn't realize at the time how hard it was, and even though in my ear it's melodic and significant, the music I wrote at that point in my life doesn't really bear any resemblance to the music I write now. I think in college we often write things that are difficult just because we feel we have something to prove.
A few years later I came back to Ms. Rossetti and I set another poem of hers, "A Better Resurrection." My friend and colleague Reverend Jay Wegman, who was at the time serving at the Cathedral of St. John the Divine, said if I finished it he would program it, and I believe we premiered it on my 30th birthday in that most gorgeous space in New York City. Last year Walton Music published the sheet music and my career as a choral music composer was launched. You can hear a recording of the piece here.
Walton Music has just released their 2007-2008 catalog and included in their offering is a new choral piece I wrote with lyricist Len Schiff (a collaborator of mine from NYU grad school days). The piece is called "The Promise Of Light" and it was our attempt (after many tries) to write something secular and yet still reverent about the December holiday season. Here are Len's beautiful lyrics, and you can hear a recording of the piece here.
AUGUST WAS YOUR SWEETEST MONTH,
BEAUTIFUL AND BRIGHT;
SEPTEMBER BURNED,
OCTOBER TURNED
INTO NOVEMBER'S NIGHT.
SO YOU WRAP YOURSELF IN WOOL AND DOWN
AND DECEMBER DONS HER MIDNIGHT GOWN
WITH A SNOWY CAPE AND A STARRY CROWN
AND YOU SETTLE IN FOR WINTER.
WINTER'S HEART IS COLD AND DARK,
BITTER AND SEVERE,
BUT WHEN THE SHROUDS
OF SNOW AND CLOUDS
DEPART, THE MOON IS NEAR.
AND YOUR FACE IS WASHED IN SILVER BEAMS,
THE SIDEWALKS SHINE LIKE FROZEN STREAMS
AND THE STREETLAMPS GLOW, AND THE CITY DREAMS…
SO BLOW WIND
AND FALL THE SNOW
YOU WILL WALK INTO THE NIGHT.
YOU'LL SPREAD YOUR ARMS
AND TIP YOUR FACE
TOWARDS THE GRACE AND THE PROMISE
OF LIGHT.
LONELY AS A PILGRIM
IN A COUNTRY FAR FROM HOME
LOOKING FOR SALVATION
IN A TOWN OF STEEL AND CHROME,
YOU NEED INDIGO AND VIOLET SKIES,
YOU NEED POOLS OF MOONLIGHT IN YOUR EYES
FOR THE SUN TO SET; FOR YOUR SOUL TO RISE.
AND SO YOU CLIMB
ON STREAMS OF FREEZING AIR
OVER TREES, OVER BUILDINGS
OVER CARE…
SO BLOW WIND
AND FALL THE SNOW
YOU WILL SOAR INTO THE NIGHT
YOU'LL SPREAD YOUR ARMS
AND SET YOUR COURSE
TOWARDS THE SOURCE AND THE PROMISE
OF LIGHT.
If you know of a choir that would enjoy working on this piece, the sheet music is available at sheetmusicplus.com.