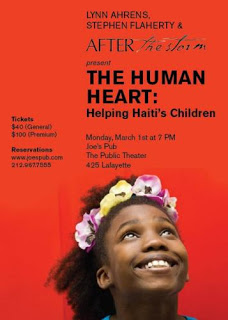 First the facts. I have a song to be included in this benefit on March 1st. It's called "THE HUMAN HEART: HELPING HAITI'S CHILDREN." It's at Joe's Pub. You can buy tickets here. ($40 general admission, $100 premium.) Lynn Ahrens and Stephen Flaherty are presenting, and Randy Redd is directing. There's a star-studded cast and a band. You would probably want to go even if it wasn't a benefit.
Now, the backstory. Randy Redd is an amazing man. I met him ten years ago when we were both on the tour of PARADE. He was an actor; I was a pianist. We became really great friends and over the years he's done readings and demo recordings for me. In the time since, he's become a music director, himself, and he's a great vocal coach, too. And he's a composer. (Talented, much?) But, perhaps most relevant to this evening's theme, he's become quite the producer of humanitarian entertainment, too. (Is that the right way to say it? He uses entertainment to do really good, really important work.)
In the fall of 2005, in the wake of Hurricane Katrina, Randy (who is from Mississippi) co-created an organization called AFTER THE STORM.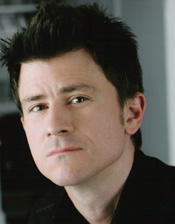 It's hard for me to put words into their mouths, but as I understand it, the initial goal of the organization was to use the arts (particularly musical theater) to bring aid to the post-traumatic youth of New Orleans. The first thing they did was to mount a production of Ahrens and Flaherty's ONCE ON THIS ISLAND using local kids, survivors, many of whom had never before been involved in musicals. The second thing they did was make a documentary about it. Go to THIS PAGE and view the trailer to be inspired by the work they are doing.
Their work in New Orleans continues, but this month it expands as Lynn, Steve, and Randy put together this benefit to provide some relief to the children of Haiti. I am thrilled to be a part of it and I hope you'll do what you can to support their efforts, as well. (My song is called "Let One Child See." Bil Wright wrote the lyrics and it will be performed by Cole Burden and a choir of backup singers.)

Lynn Ahrens, Stephen Flaherty and After The Storm present
The Human Heart: Helping Haiti's Children
Monday, March 1st at 7 PM
Joe's Pub
425 Lafayette
New York
Tickets
$40 (General)
$100 (Premium – includes Preferred Seating, Meet & Greet and more!)
www.joespub.com
Starring: Farah Alvin (Chess, The Look Of Love, Nine, I Love You Because), Betty Buckley (Triumph of Love, Sunset Boulevard, Carrie, Song & Dance, The Mystery of Edwin Drood, Cats, 1776), Tituss Burgess (Guys And Dolls, The Little Mermaid, Jersey Boys), Quentin Darrington (Ragtime), Gregg Edelman (A Tale Of Two Cities, Wonderful Town, Into The Woods, City Of Angels), Kecia Lewis-Evans (The Drowsy Chaperone, Once On This Island, Chicago), Rachel Bay Jones (Hair), Janine LaManna (The Drowsy Chaperone, Seussical, Ragtime), One Life To Live's Mark Lawson, James Lecesne, Michael McElroy (Big River, The Wild Party, Rent, The Who's Tommy), Gerry McIntyre (Once On This Island), Jill Paice (The 39 Steps, Curtains, The Woman In White), Billy Porter (Smokey Joe's Cafe, Grease), Christy Romano (Avenue Q, Parade), Robin Skye (Parade, Cyrano), Stephanie Umoh (Ragtime), Lynne Wintersteller (A Grand Night For Singing, Closer Than Ever) and Andrea Frierson (Once On This Island, Marie Christine, Juan Darien, The Lion King). This fundraiser will also feature new songs by Brooke Sunny Moriber, Bill Schermerhorn and Michael Feinstein and Georgia Stitt and Bil Wright and special appearances by Lynn Ahrens, Stephen Flaherty and more. Directed by Randy Redd, Aaron Jodoin musical directs and leads a 5 piece band with vocalists Cole Burden, Mary Catherine McDonald, Caroline Dooner, Justin Lopez and Matt Dengler. All proceeds go through After The Storm directly to SOS Children's Villages.
SOS Children's Villages is assessing the most immediate needs of the thousands of victims of the disaster in Haiti and will provide medical supplies, drinking water and basic food supplies. In the days and weeks to come, SOS Children's Villages Haiti will provide temporary care for children who are not accompanied by adults or even long-term care for children who have lost their parents in this terrible catastrophe.