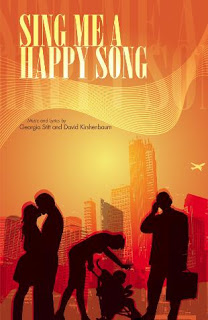 Thanks to the Festival of New American Musicals in Southern California, and especially producers Bob Klein and Marcia Seligson, I'm getting a one-week workshop of a new musical revue that David Kirshenbaum and I are writing together. It's called SING ME A HAPPY SONG, and until a few days ago I wasn't really sure what it was. But there's nothing like the pressure of knowing people are showing up in a room to work on your material to make you get your show written.
Here's the blurb: Written by two of the newest Broadway voices, Georgia Stitt and David Kirshenbaum, "Sing Me a Happy Song" is a contemporary musical revue by two of Broadway's newest voices about finding heart in these material times. With songs about modern-day relationships, searching for yourself on the internet, striving to have everything but never having enough, love, family and your gay best friend, this five-character show is at once comic and poignant, smart and silly, emotional and timely.
Not bad for something that until about a week ago was just a collection of songs. In the last week David and I have written an opening number, a closing number, and a trio. (Okay, well, most of a trio.) Add that to the numbers he and I have been sneaking out for the last year and a half, and there's starting to be a score there. What's fun about this collaboration is that David and I are both composers and lyricists, so we're sharing the responsibilities of each job throughout the process. Some of the songs are his, some are mine, and some are his lyric my music, and others are his music, my lyric. We're challenging ourselves to find the voice of the piece, rather than lining up a his-song/my-song kind of score. So that's been interesting.
The folks at the Santa Clarita Performing Arts Center have been great and supportive, especially Adam Philipson who has championed this show since he heard a few songs over a year ago. He paired up with The Theatre Project/SCV and the College of the Canyons, and now we've got a cast of college-aged students working their tushies off to learn our tunes. Performances are this Saturday, June 14th. If you think you might wanna come see it, tickets are here.
Also, here's some press: Theatre Project Brings Pro Arts Education To SCV