The thing about Hollywood studios is that they are Hollywood from the moment you pass through the front gate. As you're parking your car, you have to drive past rows and rows of empty parking spaces that are being reserved for people who are more important than you are. My first day on my new TV show was Saturday, and even though there was no one else on the grounds, I drove my car up to the fourth floor of the parking garage in order to avoid parking in empty spaces being saved for the casts and crews of "Samantha Who" and "According to Jim" and "Geeks" and "CSI:NY." Of course the really famous stars get to avoid the parking garage entirely. Ah yes. The hierarchy had begun even before the job had.
This is the third music-based reality TV show I've worked on, and though the job changes every time, the location doesn't. It's amazing to me that we are in the same studio now as we were two years ago when I had my first TV job. There are 23 studios on this 40-acre campus and we are in the same one. Okay, that's fine. At least I know where the bathrooms are.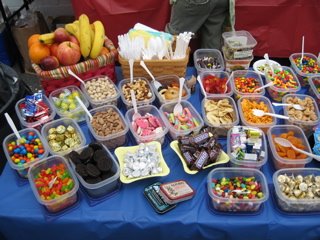 I also know where the craft services table is, and that's dangerous. I had forgotten how hard it is to stay far far away from that evil table. On that first morning, there were more donuts than I had ever seen in one place at one time. But then again, this is a huge show, and there are hundreds of people on the crew. The hundreds of donuts were supposed to get everyone through the morning. By noon, sure enough, the donuts are gone and the snacks are out. And I'm serious when I tell you, if you have EVER snacked on it, it is on this table. The challenge then becomes to avoid the chips/candy/gum/soda/pretzels/dips/OMG Reese's pieces as you walk past this table eighty-four times each day.
My job this time around is that I'm the vocal coach. In the past I've been everything from rehearsal pianist to click-track generator to celebrity handler to music clearance seeker to lyric transcriber to schedule coordinator to harmony teacher to lip synch monitor to orchestra conductor. (Watch footage from the GREASE days here.) But this time, I am simply the vocal coach. My job is to work one-on-one with all of the singing acts to make sure they are comfortable and that they sound as good as they are capable of sounding. Some of the contestants have lots of experience and a great sense of their own abilities. More often, though, they are just beginning. My two favorite moments so far have been teaching a 40-year old woman how to do a vocal warm up (She's been singing her whole life and apparently no one has ever suggested to her that it might be good to get the voice moving a bit before she tries to belt an E-flat.) and suggesting to the twenty-something guy that it might be a bad idea for him to take a quick smoke break in the middle of our singing lesson.
The thing about being on set is that there's an unbelievable amount of down time. I mean, SOMEBODY is always working (except for lunch, which in this case is catered on the ground floor of that empty parking garage. Yes, I'm serious.). But while they're resetting the stage or refocussing the lights or getting the performer out of the hair and makeup truck, you're sitting around waiting to be useful. Or in my case, you're blogging.
All right. Show starts in 43 minutes. I've gotta go check in on my acts. Tune in on Tuesday and Wednesday nights between now and October 1st. As we used to say in Covington, Tennessee: it is certainly something to see.