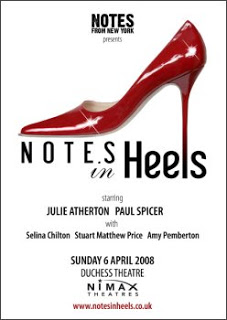 I miss London. I do. Apparently Lauren Kennedy gave a kick-ass performance of my song "My Lifelong Love" over there a few days ago and I got all kinds of phone calls and text messages and Facebook postings about how great she was. I was sad to have missed it. And I will be sad again on Sunday, April 6th when the Brits pull off a concert at the Duchess Theatre in Covent Garden that features a whole heckuva lot of my music. I will be in Los Angeles at the time, but I'm hoping some of you who live east of the Atlantic Ocean might take it upon yourselves to drop by and spy for me. Here are the details:
Sunday 6 April 2008 – Duchess Theatre, Covent Garden
Notes from New York returns to its roots with a typically tantalising twist to present Notes in Heels, a show profiling the work of Georgia Stitt, Jenny Giering and Zina Goldrich, three flourishing female stalwarts of New York's eternally ebullient musical theatre scene, starring Notes regulars Julie Atherton and Paul Spicer, alongside newcomers Selina Chilton, Stuart Matthew Price and Amy Pemberton.
Continuing the Notes from New York philosophy of presenting hitherto unheard work in front of an appreciative West End audience, Notes in Heels will bring the extensive repertoire of these fearsomely talented female composers together for the first time in an evening featuring a multitude of UK and European premieres. Adored by musical theatre enthusiasts in the States, each has a truly individual talent and distinctive identity to rival any of their more renowned male counterparts.

To book online click here or call the Box Office on 0844 412 4659