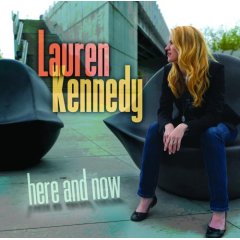 Earlier this year, Lauren Kennedy, one of my very favorite performers, recorded a song of mine called "My Lifelong Love." (You can hear the song HERE on my music page.) It's on her new album called HERE AND NOW which is filled with great performances of lovely songs by fantastic new theater writers. I am thrilled to be in the company of so many superlatives.
But that's not why I'm writing.
The song is getting a lot of attention, and people keep writing me for the sheet music. It's currently unpublished, so that's (so far) the only way you can get it. But I am thrilled that people are responding to it. It's a song about a woman remembering her first love — Adam, a boy who played the clarinet in her junior high band. I wrote it specifically as an assignment for the New Voices Collective when artistic director Joel Fram was putting together a Valentine's Day concert and wanted all of us writers to write about our first loves.
Ah, Adam. Yes, to answer your many questions, there really was an Adam, and yes, he really did play the clarinet. And yes, a year later, so did I. The first time my dad heard this song he chuckled and said, "Did you send it to Adam?" And you see, that's the problem. I CAN'T FIND HIM.
Adam Wagner. Any of you who knew me at Covington Elementary School will roll your eyes right about now remembering the torch I carried for Adam Wagner. Not only did he play the clarinet, but he swam on the swim team (as did I) and he played football. (Okay, I didn't play football. But he did, and that was totally awesome.) I think I remember that he was kind of a computer geek, too, but I say that with all the love and affection an 11-year old girl might have for a 12-year old boy. I also know (and hope) that he eventually might read this and I would hate for him to think, all these years later, that anyone thought he was a geek. Who can say? I have very little memory of anything that might be called a fact. I just remember that I had a huge crush on him, and it kind of defined the sixth grade for me.
I'm sure somewhere in my mom's basement there are pictures of Adam Wagner, but for now all I can tell you is he has a very common name and he left my high school somewhere around sophomore year and moved away. I thought maybe he moved to Iowa, but I couldn't swear to that.
Anyone know Adam Wagner?