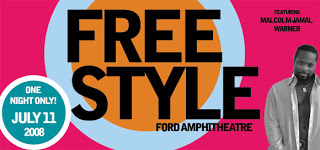 FREE STYLE at the Ford Amphitheatre
A heartfelt and fun evening of song and dance featuring Malcolm-Jamal Warner and the Groovaloos.
Since January, Reprise teaching artists visited more than 1,000 Los Angeles High School students to teach them how to write song lyrics. Students composed lyrics about their hopes, fears and dreams. Out of this group, fifteen finalists were chosen.
In a ground breaking new program, Reprise paired those fifteen young lyricists with professional musical theatre, film and pop composers including Desmond Child ("Livin La Vida Loca"), Stephen Bray (score of The Color Purple, Madonna's "Into the Groove"), Michael Skloff (theme to "Friends"), and Baby Musical Director Georgia Stitt. The result is an original musical work called FREE STYLE that gives us a unique look at the real lives of LA's urban youth.
Join a talented cast including Malcolm-Jamal Warner, Tituss Burgess (currently starring in Broadway's The Little Mermaid) and Emmy nominee Paul Anthony Stewart along with LA's most famous dance crew the Groovaloos, for a truly unforgettable evening.
Come hear their songs.
FREE STYLE at the Ford Amphitheatre
July 11 at 8:30pm
Ticket info here