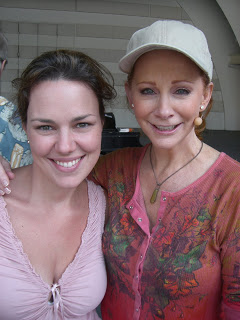 Celebrity photo! I spent all week playing for Reba McEntire at SOUTH PACIFIC. I've played for a lot of celebrities, and I have to say, Reba is as down-to-earth as they come. She clearly loves being on stage. She's genuine and nice and real. She takes notes from her directors and she's a solid actress. I am totally impressed.
I'm not bragging when I say I've played for a lot of celebrities and they run the gamut from normal to diva. Reba brings great confidence to her performing which is a trait that, surprisingly, a lot of stars lack. They're really used to being in front of the camera or being surrounded by people who fix their hair and tell them how pretty they look, and then they get on the stage and the audience looks at them expectantly. Oh, the pressure.
Reba defies that generalization. I'm not even a huge fan of her music. It's not that I don't like it; it's more that I don't know it. I go in phases with country music. I listened to a lot of it when I lived in Tennessee, and then when Jason was working on URBAN COWBOY we found we were listening to a lot of it in the car and there were country music CDs all over the house. But that phase ran its course and now we're back to our usual favorites. (Mostly the iPod is on shuffle play, which for me is a little Bach, a little Joni Mitchell, an Italian lesson, a demo of me croaking out some embryonic melody, and then finally a Barry Manilow classic. I know, I know, but I bet your iPod is just as random.)
Anyway, tonight I'm downloading Reba songs and listening and I feel like the last girl to arrive at the party. She's great. I feel so lucky. Come to the Hollywood Bowl. There are three performances and 18,000 seats at each one. I can't imagine it'll be sold out — unless everyone knows what I'm just discovering. Reba is the real deal.