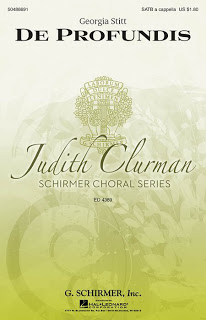 Announcing: the release of a new choral piece!  Thanks to Judith Clurman who approached me about submitting a choral piece to be included in her choral series, De Profundis is now available from G. Schirmer.  This is the first a cappella piece of mine to be published, and it was premiered by my friend Jeremy Faust and his ensemble, the International Orange Chorale.   The voicing is SATB, the text is by Christina Rossetti (1930-1894 and yes, she's a favorite of mine), and the music is by yours truly.  Enjoy.
Here's the poem.  
Oh why is heaven built so far,
Oh why is earth set so remote?
I cannot reach the nearest star
I would not care to reach the moon,
One round monotonous of change;
Yet even she repeats her tune
I never watch the scatter'd fire
Of stars, or sun's far-trailing train,
But all my heart is one desire,
For I am bound with fleshly bands,
Joy, beauty, lie beyond my score;
I strain my heart, I stretch my hands,